Self-adjusting, Automated
Matrix Tray Feeders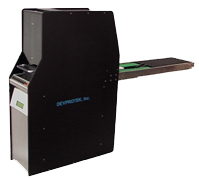 FTF-21P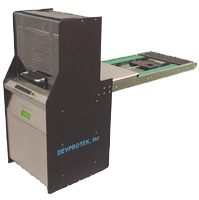 FTF-21L
Devprotek's automated matrix tray feeder (FTF) supplies host machines with a wide assortment of size and shape variations of matrix trays. The FTF's unique conveyor with a repeatable, self-adjusting positioning system, presents the tray to the host machine's pick position. Offline magazine loading allows a second magazine to be filled with an exchange time of forty seconds. The unique Batch Overlap process allows component replenishment to the FTF while the host machine continues to process components in or out of the loaded tray. It is this Batch Overlap capability of the FTF that makes truly continuous operation a reality.

Automating the tray replenishment process allows the host machine to operate continuously, eliminating bottlenecks, which result in throughput maximization. As a result, electronics manufacturers can experience more than 30% improvement in machine utilization and flexibility. The exchange action is so smooth that even µBGA and small QFP parts remain stable during tray transfer.

The FTF is a remarkable self-adjusting, high throughput multi-tray feeder designed to integrate easily, maximizing floor space by mounting directly to the host machine's feeder bay. The tray feeder's unique self-adjusting feature allows the feeder to change tray configurations in a matter of seconds without the need for operator adjustments to the machine or tray feeder, thereby eliminating operator time and error.
Benefits and Features:
Random Access Capability

On demand, multiple part number delivery to host machine.
No pallets necessary- trays are placed directly in magazine.

Host Communication

Fully integrated to host machine software indicating "ready," "error" and "run"
conditions or serial communication.

Fast, Easy-Loading Changeover

The FTF is ergonomically designed to facilitate fast, easy insertion and removal from host machine.
The specially designed magazine guide allows easy access for magazine loading and removal.
Tray magazines can easily be loaded on and off the machine to speed up the exchange process.

User Friendly Controls

Intuitive push button controls allow precise tray motion and exchange cycles.
Status indicator lights visually guide operators through the feeder set-up process.
LCD displays system operation, setup parameters and error conditions.

High Capacity Tray Exchange

Trays are loaded directly into magazines.
Tray magazine elevator holds a wide variety of thin and thick matrix trays.
High-speed tray exchange in less than 7 seconds.

Flexibility

Semiconductor vendors' thick and thin trays, such as Motorola, NEC, Mitsubishi,
Sharp, Toshiba and Hitachi.
JEDEC & IEC thick and thin matrix trays
Microprocessor controlled
Programmable conveyor speed

Batch Overlap Process

Unique product system that allows non- stop operation of the host machine.
The FTF-21P handles IEC and standard JEDEC thick and thin matrix trays, as well as semiconductor thick and thin trays from component manufacturers such as Motorola, NEC, Mitsubishi, Sharp, Toshiba and Hitachi. Trays are fed to the host along their longest length in a portrait type manner.

The FTF-21L feeds the same trays as the FTF-21P except in a landscape orientation to the host machine with a limited pick axis travel.
Sample magazine with various size trays.

Specially designed feeders available for custom trays (Odd Form)

Push button controls with LCS user
interface and status indicator lights.