Laser Cutting System Used in Production of Solar Cells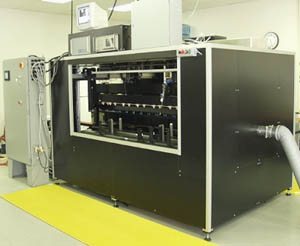 This high power laser cutting system provides fully automatic material handling and cutting. The system incorporates an unique tray system for product storage allowing a full day of running without interruption.
8-axis motion control with vision feedback utilizing standard PCs provides superior performance. The entire system is controlled using a standard PLC.
Benefits and Features:
Fully automatic material handling
High power laser provides fast cutting times
High quality optical system provides accurate laser delivery to the material
Unique tray system for product storage provides extended run cycles
Systems currently running 7-24 in production with high reliability